News
Defence and Commercial Sensing 2022
16th Mar, 2022

We are looking forward to meeting you face to face at Defence and Commercial Sensing 2022!
On booth #1528, Defence and Commercial Sensing 2022, Photonic Science will display a complete range of OEM cameras covering the full spectrum from 200nm up to 2,200nm including:
3rd generation sCMOS OEM camera core featuring deep sub electron readout noise back illuminated sensor for airborne gimbal, ground vehicle and maritime applications requiring HD low light level performance. The camera core features automatic exposure / gain control and non-uniformity corrections allowing to deliver best in class image quality under all light conditions from starlight up to full day light conditions.
fast gated UV Intensified CCD for weak Raman detection of explosives. This is a ruggedized OEM camera design capable of gating down to few nanoseconds with up to 300KHz repetition rate. The intensifier is fibre optically coupled to a low noise CCD which enables on chip Full Vertical Binning in the charge domain, allowing to detect remotely the smallest concentration of explosives.
extended SWIR OEM camera core imaging up to 2,200nm. This third generation of camera cores enable the detection and characterization of laser signatures unattainable by standard SWIR cameras. Combined with a versatile SDK, Python API, it can be integrated into specific hardware enabling Free Optical Space communication protocols.
multispectral SWIR OEM core module capturing simultaneously specific spectral bands within a total 900nm – 1,700nm spectral width. This ground-breaking technology allows a coarse decomposition of the SWIR spectrum without the need of a spectrometer / filter wheel to discriminate laser signatures operating at 1064nm or 1550nm. These wavelengths will be overlaid simultaneously over an optimum background image captured out of the water absorption bands that will enable extended depth of field imaging capabilities as already demonstrated by traditional SWIR sensors.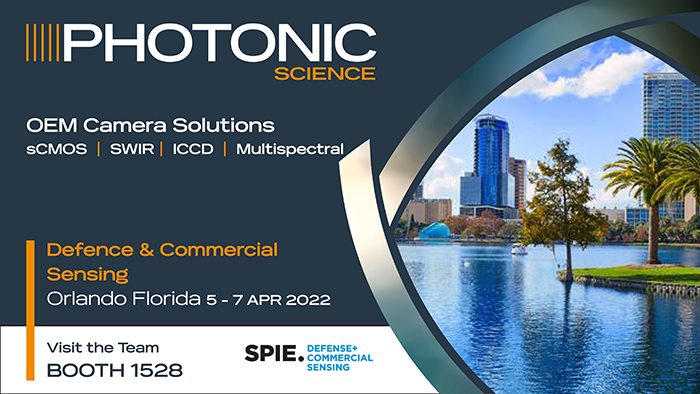 Contact us to set a meeting
Find out more about the Defence and Commercial Sensing Exhibition