News
Laue characterization of Jet Engine Turbine Blades
7th Dec, 2021
Photonic Science (PSEL) Laue System offers jet turbine blade manufacturers significant improvements for the characterization of nickel based superalloys components.
The technique used is based on X-ray back reflection diffraction.
Characterization of structure defects in turbine blades is the basis for determination of the overall crystalline perfections.
Unlike current inclined geometry diffraction based systems, Photonic Science system produces crisp diffraction patterns well discriminated above fluorescence background. 
The back reflection geometry also enables explicit diffraction patterns easily recognizable by technicians with no crystallography background in a production environment.
Routine inspection is backed up by fully automatized indexation software collecting any significant misorientation from a well identified reference axis, feeding real time statistics for monitoring production.
The left image shows a misaligned sample along its reference axis, the diffraction spots are blurred and barely emerging from a fluorescence background. PSEL back reflection system Laue system achieves good signal to noise discrimination (middle image) until perfect alignment is found (right image).
The single crystal cubic structure from which the turbine blade component coming out from the diffraction pattern is displayed as a square geometry when aligned against its <001> reference direction.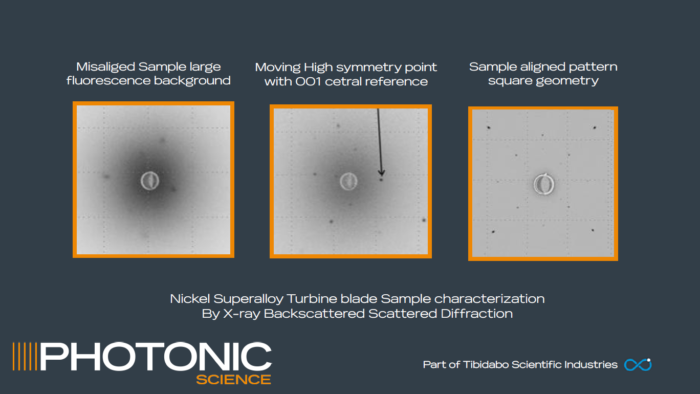 If you would like to learn more about our best-in-class Laue diffraction tool, you may be interested in hearing some Insights into Laue Cameras from our MD Daniel Brau. Or, if you have any questions, why not contact a member of the team today?