News
Extended SWIR Camera Optimisation
22nd Jul, 2021
Extended SWIR cameras with responsivity from 1100nm to 2200nm, are now available with both qVGA and VGA 640×512 resolution. These cameras are used for applications where response in 2200nm is essential, for instance hyper spectral imaging where spectral reflectance exceeds the traditional 900 -1700nm spectral range. Also used for laser profiling, alignment and detection for free optical space communication, these cameras provide precise and repeatable metrology measurements at high frame rate.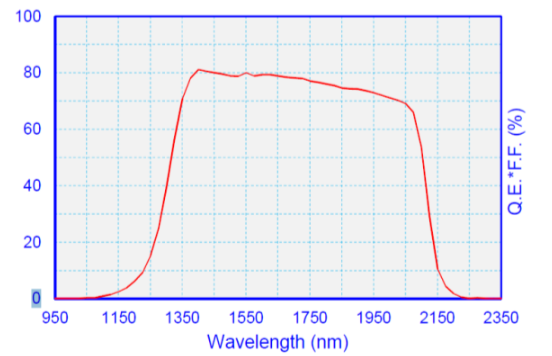 They exhibit very high dark current, even when cooled below -30°C (approx. 1000x higher than our normal non-extended SWIR sensors), strain lines from lattice mismatch and high photo response non-uniformity (PRNU) resulting in poor cosmetic image rendering.
These images must be processed to remove these dark current and PRNU artefacts in order to present a uniform image to the user. We have developed a set of algorithms that achieve this, that operate both with static correction images and dynamically with corrections that are dependent on the gain mode, integration period, and signal amplitude. In addition these dynamic corrections take into account the sensor temperature, which allows the dark current correction in particular to accurately track any changes to the stabilised sensor temperature.
Short sequences show raw, offset, dark current, bright pixel, kernel corrections being turned on one by one. All are low gain mode short exposure (10 and 50ms) as mid and high gain modes saturate with dark current in less than 1ms typically.
Thanks to efficient cooling and stable offset, the InGaAs camera allows reproducible acquisition for precise metrology measurements in the SWIR spectrum.
OEM versions with special form factors / cooling options are available for integration into specific instruments / systems.
contact a member of our team today to find out more about the Extended SWIR camera from Photonic Science.